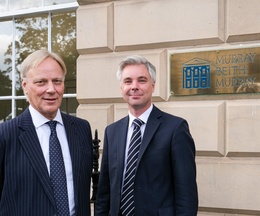 Edinburgh-based private client firm, Murray Beith Murray, has announced the appointment of a new partner.
Alec Stewart will join Murray Beith Murray partners Ruthven Gemmell, Peter Shand, Andrew Paterson, Sophie Napier and Fraser Scott within the firm's Asset Protection group in September.
After qualifying as a lawyer with Murray Beith Murray in 2002, Alec went on to become a partner with Anderson Strathern and Thorntons, and latterly a consultant with MacRoberts. Alec is a dual qualified solicitor (Scotland and England/Wales) and a specialist in estate planning and asset protection with extensive private client experience.
Alec will work closely with both the asset protection and estate planning partners, and others across the multi-disciplinary practice, in the provision of advice to clients with high value complex affairs.
Senior Partner, Ruthven Gemmell, said: "We are pleased to welcome Alec back to the firm. He brings a wealth of knowledge and expertise, business development experience, and an extensive business network. His private client expertise and knowledge will complement that of our existing team."
Alec Stewart said "Murray Beith Murray is a prestigious and respected firm and I am delighted to be part of the senior team."
Murray Beith Murray, Edinburgh
Murray Beith Murray is a private client practice, made up of specialist lawyers from a variety of legal disciplines, including experts in asset protection and estate planning.
The firm was established in 1849, as advisors for generations of clients, committed to our values of integrity, expertise and trust. This aim and these values continue to this day as does our commitment to be here when you need us.
To get in touch, call 0131 225 1200 or complete our online contact form.